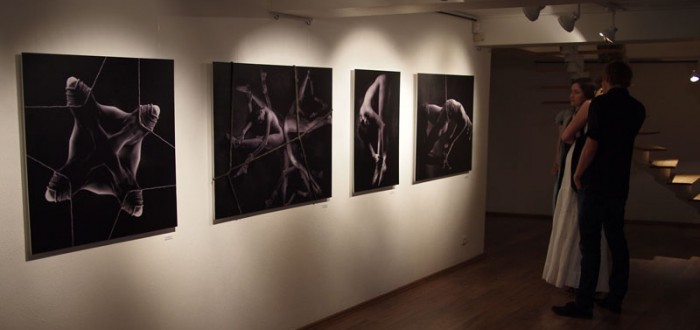 The printed paper is mounted onto an aluminium composite with acid free adhesive and equipped with special back-frame for hanging. One of the benefits of this finishing method is that you can use any type of paper and the final impression is rendered by the paper surface. Because the aluminium composite does not 'give', this method makes the picture very durable and rigid.
Substrate
There are two options: aluminium composite and anodised aluminium.
Aluminium composite is less expensive and is more suitable if the work won't be archived or sold. The edges of the board are black.
Available from 2mm-4mm thick.
Anodised aluminium is the right choice if the work is to be sold or archived, because it is remarkably resistant to ageing and gives a premier finish. The edges are pure aluminium.
Generally a thickness of 1-2mm is used although it is available from 0.5-3mm (in steps of 0.5mm). Over 3mm makes the picture too heavy and ridiculously expensive!
Paper
We use a choise of papers from different leading brands.
Our HP and EPSON papers are designed to work perfectly with our printing equipment (HP, Epson) and they offer full range of classic photo papers (Glossy, Satin, Matt etc.) They have superior fade resistance qualities and offer a perfect surface for truly photographic printing.
Hahnemühle – the oldest German paper maker, established in 1584. Hahnemühle offers a wide range of paper for FineArt Printing in a variety of surfaces, base weights (grammage) and structures.
Canson – a rising star in the fine art paper world. Canson is unique by the fact that none of their papers are made using harmful bleaching agents.
All of the papers we offer have been tested by international research laboratories and have been awarded quality certificates by Wilhelm Imaging Research. Furthermore, our printers have all been calibrated for optimum results for these papers.
Backframe
The frame may be the only invisible part of the picture but it is no less important than other parts of the artwork. The frame dictates how far the picture floats from the wall.
It provides rigidity and keeps the picture flat. Without a frame, glue and temperature stress would twist the picture. It makes it safer to transport and handle rigid material – especially important for exhibition prints.
The frame is available in different thicknesses: 8mm, 15mm or 25mm. Generally the 15mm option is applied, but for very large pictures we double-up on the frame.