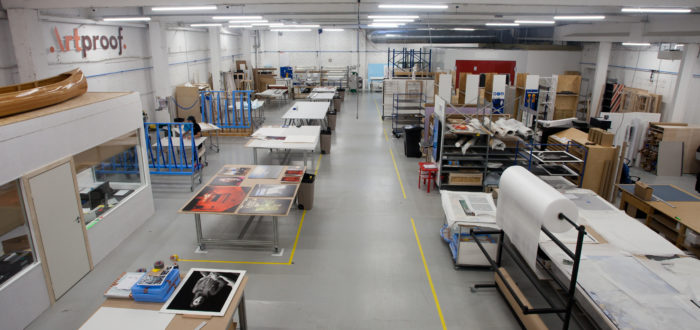 Artproof new headquarter is located in Tallinn, Estonia with a 1500 m2 of production space.
It took a great team effort to move and set up the lab according to the highest lean management production standards. The new lab is almost twice bigger with ~1500m2 of usable space available. All the departments have seen a growth in the workspace that they can use.
We are convinced that the new premises allow us to offer you an even better service through faster turnaround times.
The new space features a brand new spray booth with improved lighting and airflow that allows us to offer you better and more complex surface finishing options.
Our carpenter shop has grown to accommodate more carpenters and machines to meet the growth in demand for custom-built frames and exhibition accessories.
The Diasec mounting section now has twice larger space for drying images.
The assembly, glazing cutting, packaging, and quality control all feature additional and larger working surfaces to allow us to operate with bigger sizes and faster.
Though spacious premises are key to working at the highest quality levels and with large images it is not the only thing Artproof has improved in our new lab. Our production is built based on lean management invented by Toyota and in addition to that, we are moving towards paperless production management that allows all the details of an order and possible changes to that to be communicated instantly to all involved team members.
Artproof's team supported by new space and proven production management offers you the best experience when producing artwork.
We welcome you to our new lab!